Get Rid of Frizzy Curly Hair:- Getting a perfect hair care routine is as important as getting a perfect skin care routine for good skin. In this busy lifestyle, it is very hard to manage our hairs. Normal hairs are still better and easy to manage as compare to curly hairs. Because curly hairs get easily dry or damaged. Straight or curly both hairs are easily prone to frizz but the curly hair are more prone to frizz as compared to normal or straight hair. Well, today we are here with this amazing article for curly hair girlies. This article will help surely help curly hair girlies to manage their curls in a better way.
We know curly hairs are beautiful in its own way. But on the other hand, they are unpredictable and difficult to handle. The texture of curly hair is very different from normal hairs. Curly hairs require more hydration, less hair washes and yes more patience. Right products and hairstyles can make your curly hair beautiful and flawless. Keeping your curls healthy and beautiful is really a big task. In this article, we will tell you few tips to make your Curly hair looks beautiful and frizz free.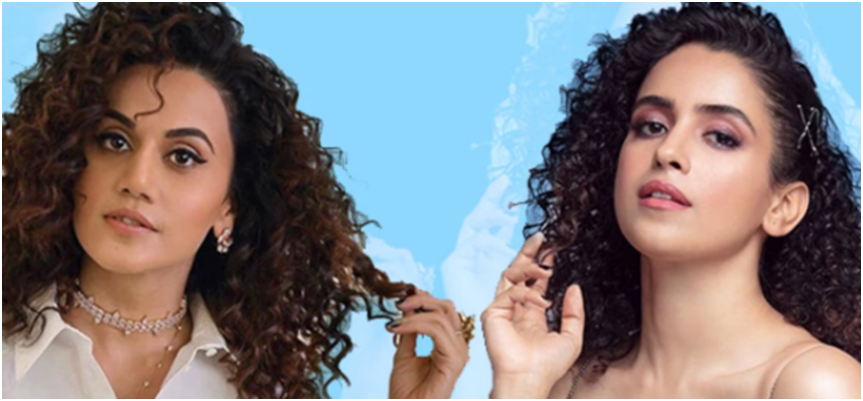 10 Amazing Curly Hair Tips to Get Less Frizz Free Hairs –
Comb Your Hair from Bottom | Get Rid of Frizzy Curly Hair
Combing your hair from bottom is a very important tip to enhance your curly hair. Detangling your hair from bottom will allow you to detangle your hair knots in the best possible way. As curly hairs are more fragile so make sure to use a wide tooth comb so that it doesn't disturb the natural pattern of your curls.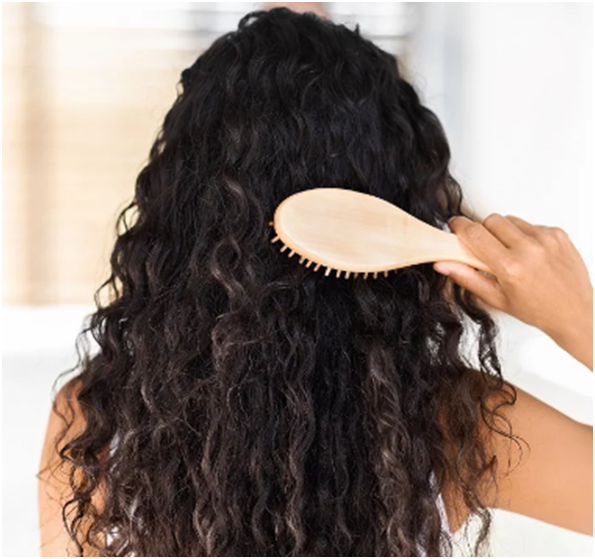 Use Cold Water to Wash Your Hair
You should always try to use normal temperature water to wash your hair. By using normal temperature water, you can avoid unnecessary frizz or dryness in your hair. Using cold water will help your hair to lock or seal hair cuticles, trapping in the moisture. Do not ever use hot water to wash your hair as it will only make your hair dry, damaged or dull.
Use a Good Pillow Case | Get Rid of Frizzy Curly Hair
Good pillow or good quality pillowcase is a very important for your hair. Silk or satin pillow cover for your pillow case can really help your curls to define in the best way.. Usually the pillowcase or bed sheets are made up of cotton or polyester material. These fabrics will create a friction between its long fiber and your hair strands. This friction will lead to knots or tangles in your curly hair. This also makes your curls rough or frizzy. So it's better to use a silk or satin pillow case.
Avoid Over Hair Washing
Many people wash their hair every alternate day which allows their hair to reduce the moisture or they end up with frizzy hairs. Each time you wash your hair, your hair losses some amount of natural oil and this makes your hair dry. We suggest you to only wash your hair once or twice a week.
Trim Your Hair Often | Get Rid of Frizzy Curly Hair
Getting split ends is very common. Once you will get split ends, it creeps up the hair strand and damages it. Split ends are one of a very common reason of frizzy hairs. But you can totally avoid it by trimming your hair at least once in four or five months. Getting a trim will definitely help you to reduce hair fizziness.
Sleeping with Wet Curls
As wet curly hairs are more fragile and easily prone to damage so we should avoid combing and sleeping in wet hair. When wet, hair cuticles are easily breakable, so any friction can lead to damage to your curly hair. So, please try to avoid sleeping with wet hair. It will not only disturb the shape of your natural curl but also make it look like broom in the morning.
Spend Less Time Outside | Get Rid of Frizzy Curly Hair
Spending lot of time in exposure to sunlight will make your hair damaged and can also destroy the beauty of your natural curls. So, avoid excessive sun exposure or it will damage your hair strands and make it more frizzy, dry & dull.
Frequent Use of Hair Styling Tools
Heat is one of a reason to make your hair dry. Avoid using heating tools or if in case you are using heating tools so make sure to use hair protectant spray before applying any heat to your hair whether it is hair straightener, hair curler or blow dryer.
Product Cocktailing
We know this might a new term for you but this process works wonder on your curly hairs. Product cocktailing simply means mixing two or more products together to style your hair. You can use serum or get together and then apply it on your curls to simply enhance your curls in a better way. This process of mixing products will give your curls a more beautiful or crunchy look.
Use Less Product
We suggest you not to use much product on your curls as it will only weight down your curls. When your curls feel dry do not weigh it down by using too much product at one time. Apply a little amount of product on your hair to style. In case you are applying a good amount of product so use a light weight moisturizer to give a hydration to your curls.
2 Common Myths About Curly Hairs
Don't brush curly hairs – Brushing your curly hair is a task because of various knots or detangles. Or people also say that brushing your hair will disturb your curl pattern and make it drier. But it's not true, as brushing will evenly distribute the natural oil of your hair. Brushing also improves blood circulation of your hair.
Applying oil on wet hair – It's a very common myth that applying oil on your wet hair makes your curls shiny and beautiful. But it is not true at all, we know that oil and water never mixes. Or applying oil on your wet hair will make your curly hair greasy. It's better to apply oil after its dry.